Posted by Trent Telenko on 19th July 2013 (All posts by Trent Telenko)
I have stated in an earlier Chicago Boyz column that:
"One of the maddening things about researching General Douglas MacArthur's fighting style in WW2 was the way he created, used and discarded military institutions, both logistical and intelligence, in the course of his South West Pacific Area (SWPA) operations. Institutions that had little wartime publicity and have no direct organizational descendent to tell their stories in the modern American military."
Today's column is the story of one of those "throw away" logistical institutions, one that started as MacArthur's "Mission X", what became the small boats and coastal freighter fleet that served MacArthur from 1942 through 1947 as Supreme Commander Allied Powers (SCAP) in post-war Japan.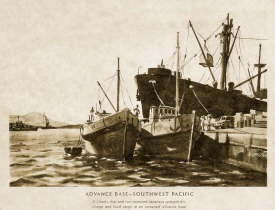 A Liberty ship and two captured Japanese sampans discharge and load cargo at an unnamed advanced base.
Small Boats and Coastal Freighters
General Douglas MacArthur had three more or less distinct types of coastal shipping pools operating with the World War II (WW2) Southwest Pacific Area (SPWA) theater's 7th Fleet:
1) Large vessels that were US Army or War Shipping Administration vessels assigned to Army including Dutch East Indies tramp steamers and Vichie French vessels (along with freighters commandeered by MacArthur as floating storage when they arrived with intentions of return). These were the Army Transport Service (ATS) vessels that were, under a 1941 reorganization, integrated into the Water Division of the US Army Transportation Corps. They were manned by American and; Australian merchant seamen in part, but primarily by the US Coast Guard on newer ship after mid-1944.
.

2) The small ships and boats section with watercraft of less than 1,000 tons displacement, almost exclusively of local SWPA origin with some built for the U.S. Army in Australia's small boatyards, that were essential for operating in the coral filled waters of Northern Australia, the Coral Sea, Papua/New Guinea and the scattered islands of the Philippines. They were crewed primarily by a mix of citizens from Australia, New Zealand and Papua New Guinea, some as young as 15-years old after February 1943, due to a world wide merchant seaman shortage.
.

3) The US Army Engineer Special Brigades (ESB) in LCVP and LCM landing craft. Each US Army Engineer Special Brigade — and MacArthur had three in the Philippines, the 2nd, 3rd and 4th Brigades — was equipped to transport and land a division in a "Shore to shore" operation of under 135 miles. (which was the practical maximum overnight range of a LCM combat loaded with a M4 Sherman tank.) These brigades required a force of 7340 men, 540 LCMs and LCVPs, and 104 command and support boats to move that division. You can find an excellent site dedicated to the ESB's here — http://ebsr.net/ESBhistory.htm
Of the three coastal shipping pools, the second was the only one MacArthur had for the first 18 months after he came to Australia. It was made up primarily of anything the Australians would let "Mission X", what later became the US Army Small Ship Service (USASS), impress from Australian harbors. Two and three mast sailing ships, tugs, fishing boats and 40 year old coal powered tramp steamers less than 1,000 tons fit to be hulks were the main components of that fleet.
This small boat "fleet" operated in the face of Japanese air superiority without even Destroyers for escort — the USN did not allow any US Navy warships past Milne Bay. If these small watercraft had escorts, they were Australian motor launches, US Navy PT-Boats and US Army ESB landing craft gunboats.
Read the rest of this entry »
Posted in History, Military Affairs, Miscellaneous, National Security, Uncategorized, War and Peace | 9 Comments »