On Okinawa, American troops secure Chocolate Drop Hill after fighting in the interconnecting tunnels.
Elements of the 1st Marine Division, part of US 3rd Amphibious Corps, capture Wana Ridge.
Elements of the US 6th Marine Division, part of the same corps, begin mopping up operations in the Japanese held caves of the Horseshoe and Half Moon positions. They use flame-throwers and hollow-charge weapons and seal off some Japanese troops.
Japanese forces counterattack on the Horseshoe position suffering an estimated 200 killed.
To the east, the US 7th and 96th Divisions, of US 24th Corps, continue to be engaged in the capture of Yonabaru.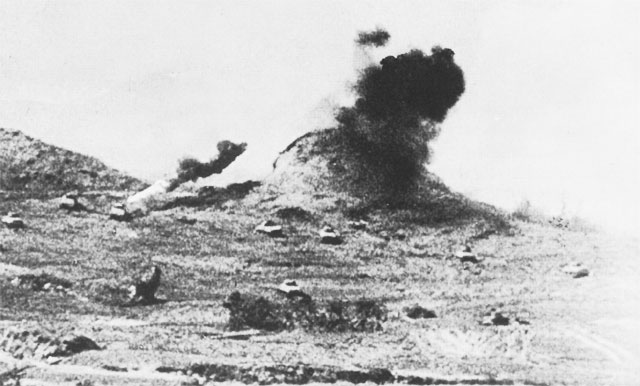 Okinawa Campaign Background — Shuri Line Threatened!
The American 10th Army is into the tenth day of an offensive it resumed on 11 May 1945. The unrelenting American pressure of the "Blowtorch & Corkscrew" tank-infantry assaults has pushed the Japanese back close to 1/2 mile on the Shuri line over all and the Japanese are threatened with being flanked, if Yonabaru falls on the Okinawan East Coast.
The failed Japanese general counter offensive by the on 4-5 May 1945 — where the 32nd Army lost 7,000 men out of it's original 76,000, — has left the 32nd Army's commander General Ushijima in a crisis and without reserves of troops and artillery ammunition to address it.
American 10th Army intelligence is unaware of this development.