[ cross-posted from Zenpundit ]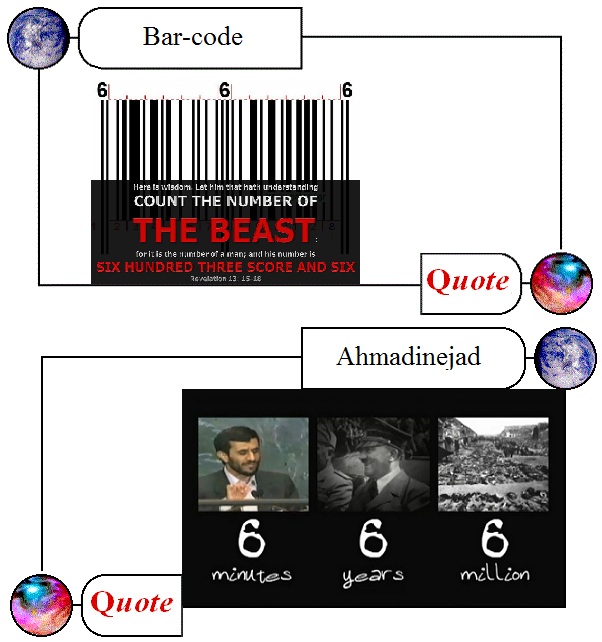 I'm hoping to give an extended treatment to Glenn Beck's new documentary on Mahdism and Iranian nuclear ambitions shortly, not because I think Mahdism is unimportant – I don't – but because I don't think Beck is listening to some of the people with the most in-depth knowledge of the situation.
In the meantime, I couldn't resist the screen-grab from the docu in Quote #2, which accompanied Joel Rosenberg saying:
This end times theology is not only what he believes, but it is why Ahmadinejad is putting his foot to the gas of accelerating Iran's nuclear weapons development program, and the ballistic missile development as well – because once Ahmadinejad is able to acquire nuclear weapons and the missiles to deliver them, Ahmadinejad could do in about six minutes what it took Adolf Hitler about six years to do, and that is to kill 6 million Jews.
You can have Nero for 666, or Aleister Crowley, or Ronald Wilson Reagan, or this Pope or any previous holder of that title, or Muhammad, or bar codes, or Ahmadinejad – but surely not all of them at once.
*
I'm shifting from talk about 666, the number of the Beast, to talk about the Antichrist now — which may or may not be a different topic, see for instance these notes from Scofield on Revelation…
*
Joel Richardson, an email friend of mine who is the author of The Islamic AntiChrist and is featured in the documentary, believes the Antichrist and the Mahdi are one and the same: he calls the expectation of the Mahdi's coming an "anti-parallel" of Christian expectation of the Second Coming of Christ, and says "Islam has literally taken the whole story and flipped it on its head". Joel Rosenberg, whose latest thriller is titled The Twelfth Imam, and who is also featured, says that in his view the Mahdi may be "an" – but not "The" – Antichrist.
*
Back to the Beast:
Rev. Ian Paisley, Baron Bannside, still says 666 is the Pope — but then he's both a minister of religion and a Unionist politician from Northern Ireland.