I mean to write something cogent about current events, but I've just written two blog pieces for pay, and a book review and just ran out of time this evening. So, what about some pictures?
This year was the 175th anniversary of the Texas Revolution – and because the events of that war and the aftermath features highly in my books, I went to two re-enacted events: one at the Alamo, the other at the Goliad. Couldn't make it to the San Jacinto re-enactment, it would have been a four-hour drive.
Anyway – enjoy.
No idea what would happen if you crossed the timeline; maybe Dr. Who coming after you with a sonic screwdriver?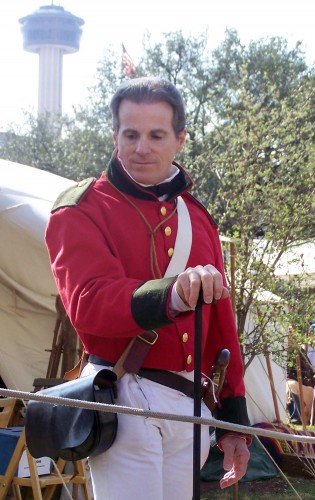 You have to admit – being a reenactor is about the only way that a straight guy can let his taste for sartorial splendor out for a quick romp in public these days…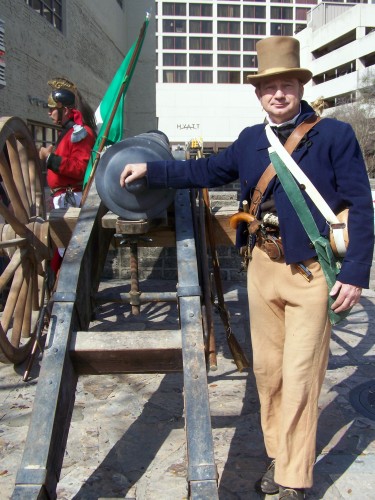 A volunteer reenactor who came from Illinois – as did the person he portrayed. That's an 18-pound cannon he's leaning on. It's a prop from the most recent movie about the Alamo. It's aimed at the Hyatt … I am sure it was not loaded.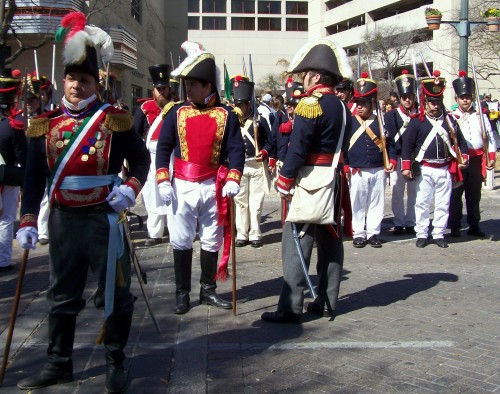 No doubt about it; Antonio Lopez de Santa Anna and his staff and legions…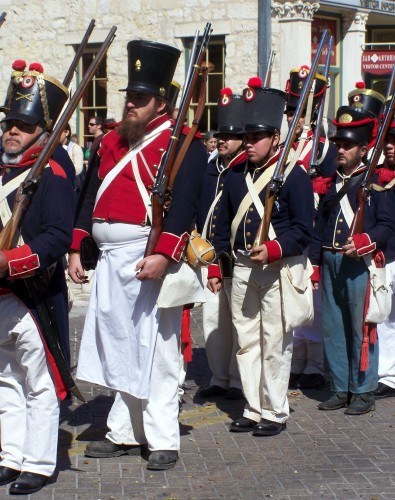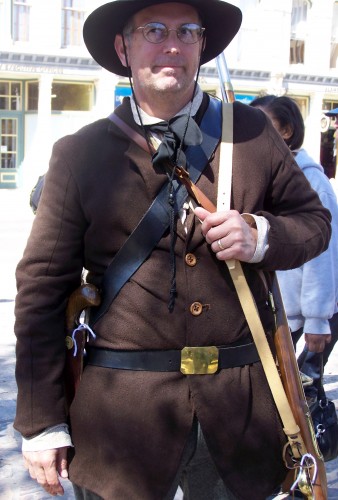 …definitely were the snappier dressers. Although…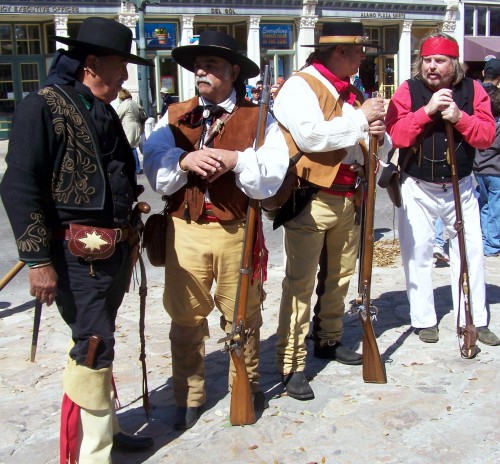 … the Tejano volunteers had their moments. And then again …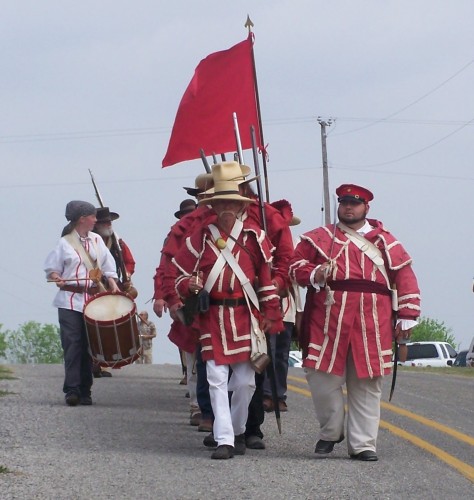 …Shackelford's Alabama Red Rovers might have held up their side, sartorially speaking. They were a volunteer outfit, recruited by an Alabama doctor, and were part of the Goliad garrison – the other presidio captured by the rebel Texians in the initial uprising at the end of 1835. They wore red canvas hunting coats, trimmed with fabric fringe.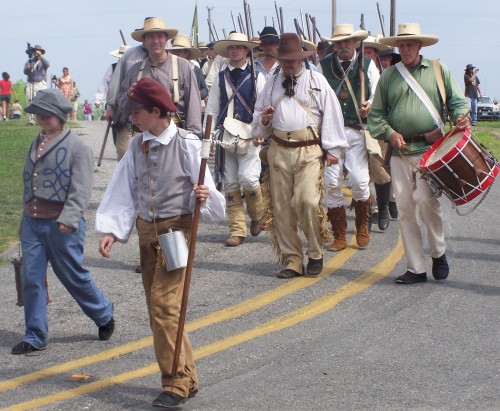 … but most of the rest of the Goliad garrison were pretty much 'come as you are' … although the New Orleans Grays did wear gray. Not uniforms, just off-the-shelf standard work clothes, purchased at various haberdashers in New Orleans.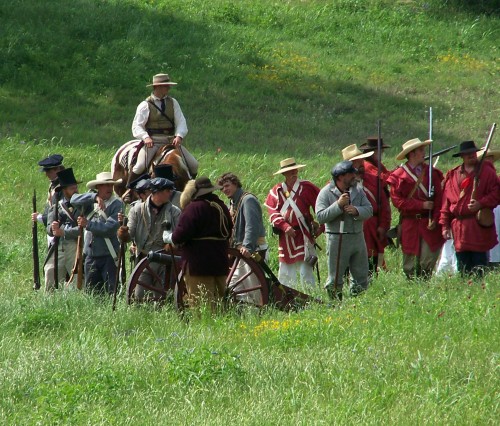 The Goliad garrison was commanded by James Fannin – who withdrew under orders from Sam Houston after the fall of the Alamo. Fannin and his 400 or so men were supposed to rejoin Houston behind the defensive line of the Colorado River. Instead, they were caught by Mexican cavalry …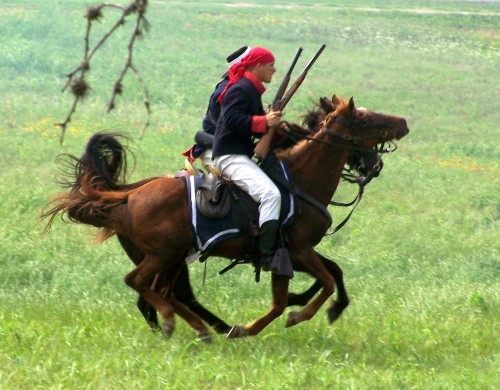 … cornered by infantry…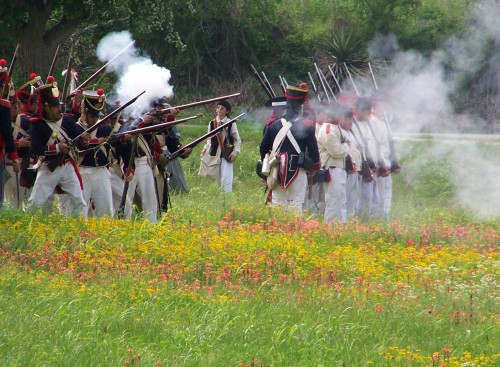 … and pounded by grapeshot.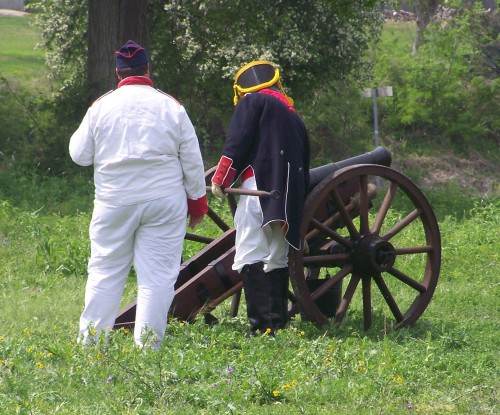 Fannin surrendered to save the remainder of his command. The survivors were marched (or carried) back to the Goliad citadel.  A week later, on Easter Sunday of 1836, they were executed by order of Lopez de Santa Anna. About thirty – give or take – were spared because of their medical skills, the intercession of various and rightfully horrified Mexican officers and the efforts of  the common-law wife of Captain Telesforo Alavez. Some escaped during the confusing moments of execution.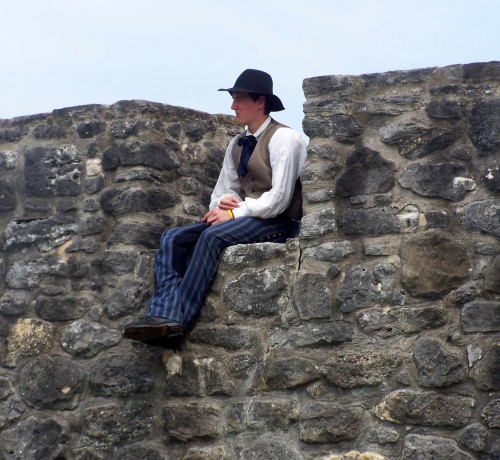 At the battle of San Jacinto, the attacking Texians yelled "Remember the Alamo" and "Remember the Goliad" – but outside Texas today, people mostly remember the Alamo. I don't know why this would be so – but another Texas HF writer and I agree;  the Alamo was a heroic and desperate last stand … but Goliad was a squalid exercise in administrative mass murder.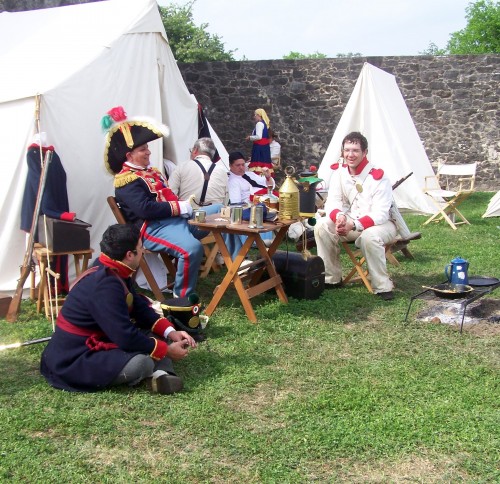 So … the nut of it all, is that a very centralist, dictator-driven, top-down, elitist and authoritarian national establishment came down like a ton of bricks upon a relatively smaller, independent and stubborn locality, full of citizens who just wanted to be left alone to manage their civic affairs as they thought best. Hmm. Maybe this post wasn't so much of a diversion as I thought.
I still will post something about the OWS sometime this week. Promise and cross my heart. Meanwhile,  Daughter of Texas and the sequel will afford an easy lesson in the background of this wonderful and contradictory place. I have come to think of Texas as a demi-glace of what is best about ordinary Americans; boiled down and concentrated, obstreperous and fiercely independent – but amazingly kindly…  at all at once.