Veterans Day started after World War I as "Armistice Day" commemorating the end of that conflict on the eleventh minute, of the eleventh hour of the eleventh day of the eleventh month. As time went and wars came one after another, it became the day America commemorated as Veteran's Day, for those who served under the flag in the military services.
This year, though my memories are on one of the very many who were "They also serve who only stand and wait." My Grandmother, Dora Zoraida (Rodriguez) Due died on October 30, 2013 at the age of 97 surrounded by her loving family members. She was the Daughter, Wife, Mother, Grandmother and Great Grandmother of soldiers of the American Republic. Men of her life and line have served in World War I, World War II, Korea, Vietnam, Desert Storm and multiple tours in Iraq and Afghanistan since Sept. 11, 2001.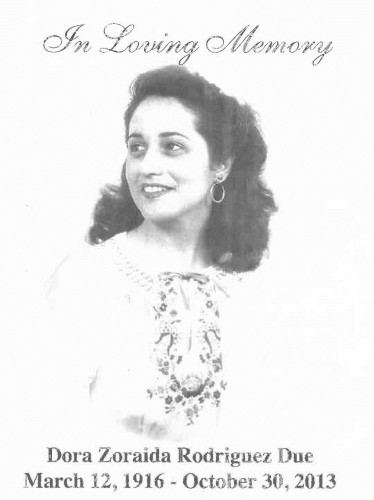 ""They also serve who only stand and wait."
.
–John Milton
My Grandma Dora was such an "Army Woman" that even Spartan women of old would have pulled their hair and gnashed their teeth in envy. At her funeral one of her son-in-laws computed that the men of Dora's life and line have served 111 continuous years of the 238 and counting existence of the Regular US Army. Truly there was not a day of her 97 year life that Dora did not serve, waiting, under the flag.

One of what later times would call "The Greatest Generation," Dora was a puertorriqueño child born to Major Daniel Rodriguez and his lovely wife, Zoraida, on March 12, 1916 at the military hospital on Ft. Henry, Cayey, Puerto Rico. During her early childhood she moved from Army Post to Army Post with her parents and siblings. In 1934, while stationed at Vancouver Barracks, Washington, with her father, she met and fell in love with Lt. William Field Due, a West Point graduate. They were married on April 2. 1934.
Dora then led the life of an Army wife of her era. She was active in the social circles of the West Point class of 1933 making life long friendships with William Due's classmates, their wives and their children. Dora followed her husband to the Philippines under MacArthur before WW2, the Panama Canal zone, to Cuba while her husband was provost to the entire Caribbean Command and after WW2 to a devastated Germany. There they hired and retained my German godmother, Rosa. There also one of their daughters married a young Army officer.
Dora did not follow her husband William to Korea, where he was a POW camp commandant in the early 1950's.
Along the way Dora had eight children, four boys and four girls. In the early 1960's her husband retired to San Antonio, Texas and their long and happy union that lasted until June 29, 1978 when Col. Due passed away.
During her husband's retirement and after, Dora worked as a telephone saleswoman for Sears Catalog for 17 years, then later she was a property renting entrepreneur. She was also active in retired Army circles and retired generals were a dime a dozen in the parties she seemed to hold at the drop of a hat, according to my mother.
In her declining years Dora was in and out of hospitals and near death with a regularity rivaling the 'Perils of Pauline' serials of her youth. When asked about this, and the quality of the life she was living, her reply was:
"LIFE is Quality.
Pain is Temporary.
DEATH is Permanent."
Unfortunately, even for a women of such spirit, Death was also one more thing…inevitable.
In late October my Grandmother was moved from hospice care to the Brooke Army Medical Center (BAMC). She wanted to die as she had been born, in a military hospital under the flag.
At 11:15am Oct 30, 2013, four days after she was taken off assisted breathing, Dora finally died. She was surrounded by her surviving children and visited by grandchildren and great grandchildren in her final hours.
The Catholic Priest Dora's daughters called could not attend her death as he was giving mass at the time. In his stead BAMC's digi-cam uniformed US Army Chaplin arrived telling them of the priest's conflict of duty and said: "I'll have to do." Shortly before the doctor's declared her official death, the Chaplin said "Dora has gone with the angels."
In the minutes afterwards the Chaplin asked questions about Dora and in turn was asked about his own career. It turns out the Chaplin was former military who re-enlisted as a Chaplin after September 11th. He had been on several tours in Iraq and Afghanistan before his current assignment to BAMC.
When he heard of Dora's life, only some of which I have touched upon in the obituary above, he said, "It sounds like she has served more than I have." He then reached over to his right arm, and pulled his velco attached American flag off his uniform, and placed it upon Dora's pillow.
So it was, in the end, that Dora, who had been born under the flag, lived and married under the flag, had watched the home fires for five generation's, and finally died…under the flag.
Dora is survived by children. They are,
Dr. Dora Logue.
Mrs. Dixie D. Smith (Brig. Gen. Thomas G., AUSA Ret.).
Former Capt. William F. Due Jr., AUSA. A graduate of the US Naval Academy. class of 1964 (Sandra).
Mrs. Dana Telenko (Col. George J., AUSA Ret.)
Zaida Denise Forester. PhD (Dr. David).
Dora loved the Army and kept abreast of her many friends throughout the world. Some of their children attended her funeral. Her greatest single joy was the pride and love she felt for her 18 grandchildren, 31 great-grandchildren and 9 great-great grandchildren that she always held close to her heart.
Dora was preceded in death by her sons, Richard, Roderick and John.