So, OK, my employer made me burn off some vacation days before the end of the fiscal year, in the form of a cap on the number of PTO hours that can be carried over from FY14 into FY15, which boundary has shifted by 3 months due to our recent change of ownership. Much lower down, my management intimated that due to certain software-release and testing milestone dates, no significant block of time off in February or March would be approved. But thanks to an unrelated M&A a few years back (a spectacularly problematic one, destined to be a business-school case study for decades to come), we now get the MLK holiday off. I decided to take the whole week and head southwest in search of sunlight. After a swing through New Mexico, I am spending a few days at Crow's Nest, a 10-minute hike from the 6+ acres I own near Bloys Camp. It's my first visit in four years.
This is what I would write if somebody made me enter one of those hoary MLK essay contests that middle- or high-school students get sucked into. The entries that I've read over the years have seemed pretty unimaginative, but it's hardly realistic to expect much historical perspective from a teenager. The tone I'm aiming for here is, of course, originality combined with some mildly discomfiting assertions, while avoiding stereotypical politics. The structure is a simple three-parter: past, present, and (near) future.
Some years back, I suggested that the MLK holiday be devoted to the study of game theory, and quoted from Axelrod's The Evolution of Cooperation
by way of illustrating just how appallingly robust and generally self-reinforcing racial prejudices are. Indeed it is not easy to think of another instance in human history of the kind of legal and attitudinal changes that swept the US in the 1950s and 60s. How did King et al overcome the obstacles?
Plenty of people would credit divine favor, and being what I am, it would hardly be appropriate for me to say they're entirely wrong. I'm reminded of the joke, though, where the punchline is God telling a man that in response to his pleas for rescue from a flood, He had sent a truck, a boat, and a helicopter. Maybe we had an unusual confluence of such assets. Postwar rapid growth in material prosperity, which promoted an "abundance mentality," and the increasing prominence of what Strauss and Howe call an Adaptive generation, concerned with process and fairness, would be two of them. Less pleasantly, nearly zero immigration might be another. Coincidentally, immigration is going to come up again in the near-future section below.
(My parents, both very much of the Silent Generation, marched after Dr King was killed. The march was an entirely peaceful event – by candlelight – black and white people together, in the small Rust Belt town where we were then living, well out of the way of the burning cities of 1968.)
Turning to our present situation, and at the risk of sounding like I'm merely reverting to my liberal upbringing, American society cannot be properly understood without attention to its inequities. Here someone is sure to quote "free people are not equal, and equal people are not free," and I do not for a moment advocate the kind of superficial equality of decapitated achievement so devastatingly critiqued by CS Lewis in Screwtape Proposes A Toast. A certain kind of social scientist is known for putting forth a model of hierarchical vs egalitarian and communitarian vs individualist in which we're all supposed to be either egalitarian-communitarian or hierarchical-individualist, but I'm egalitarian-individualist, and (eg) Marxist regimes which have proclaimed themselves to be communitarian have notoriously been the most hierarchical.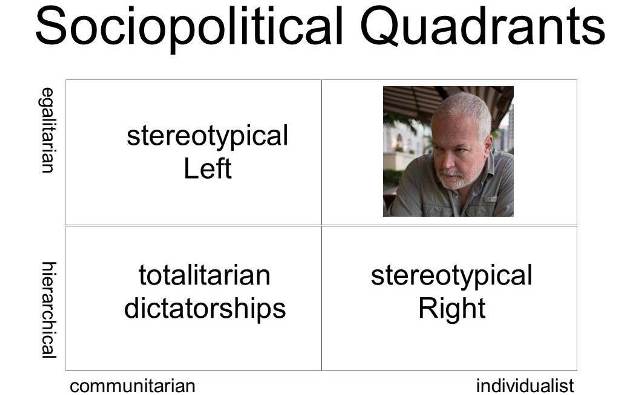 (diagram)
Quoting myself from a while back: "I strongly believe these inequities to be an emergent property of the overall system, an artifact of culture and especially generational temperament rather than anything readily meliorated by the proper legislation. The Silent Generation (birth years 1925-42) was deeply concerned with equality. The first wave of the baby boomers ('43-'51) was somewhat less so, the last-wave boomers ('52-'60, which includes me) much less so, and the Gen Xers ('61-'81) scarcely at all. [All dates from Strauss and Howe, and note that these are cultural, not demographic, generations, thus the departure from the usual '46-'64 definition for the boomers.]"
The new industries created over the last few decades are STEM-intensive in a way that exacerbates the natural tendency for wealth to follow a power law; the exponent α of the probability density function increases. Not to go all postmodernist on my readers, but this may be as much a result of generational temperaments as the physical/mathematical laws – of, eg, integrated circuit manufacture or high-speed trading – involved; a few become wealthy while most struggle. And it applies just as much to publicly-funded organizations, which is why a majority of the very richest counties in the US are now in the DC metro area. (Speaking from a local-KC perspective, I can state with great confidence that if the richest place in Missouri was Jefferson City, or the richest place in Kansas was Topeka, we would know that something had gone horribly wrong.)
Present-day conventional liberals are prone to ignoring our Versailles-on-the-Potomac and framing the discussion as being about "privilege." Extracting the kernel of truth from that silliness, we might do well to consider it in purely economic terms, and ask ourselves: what is the marginal cost of being other than white and male in American society, and how can we reduce that marginal cost without making it a merely zero- (or even negative-) sum game? This is not an easy problem, but if Strauss and Howe are right, what is already being called the Homeland generation (next Adaptives; currently age ~10 and under) may substantively address it in the 2030s and 40s.
The future I want to bring up, though, is a lot closer than that.
"History will have to record that the greatest tragedy during this period of social transition was not the vitriolic words and the violent actions of the bad people, but the appalling silence and indifference of the good people. Our generation will have to repent not only for the acts and words of the children of darkness, but also for the fears and apathy of the children of light."

– January 27, 1965, Dinkler Plaza Hotel, Atlanta
Among my recent barrage of predictions for the next few years was: "An incident analogous to the MS St Louis, but with victims of the collapse of Venezuela, the ISIS genocide of Yazidis, or some similar situation … [n]otwithstanding the obvious danger to refugees' lives, allowing them into the country will be enormously unpopular. Many of those turned away from the US will die violently in the next few years."
In the weeks since composing that post, I have become even more convinced of the likelihood of a humanitarian disaster on our southern border, stemming from a confluence of the collapse of Venezuela, narcotics Prohibition, and other factors affecting the Caribbean Rim, especially the relative ease of international travel. If even one-tenth of the population of Central America were to decide that emigrating northward is the solution, we will have four million people knocking on our door. The point here is not merely the risks themselves, but the provenance of our response. It will not come from extremists, conspiracy theorists, or obvious racists. It will come from the "children of light," ordinary, otherwise decent – indeed, often self-identifying "pro-life" – but too-anxious Americans suffering moral failure, and it will be the shame of future generations.