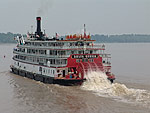 The steamboat Delta Queen is a well-known and much-loved vessel. Built in 1926, she is 285 feet long, with a steel hull, powered by two steam engines of 2000HP each. She was originally used for passenger service between San Francisco and Sacramento. After being refurbished in 1945, she began service on the Mississippi River and its tributaries, and has operated in that role ever since. Thousands of Americans have enjoyed river cruising on the Delta Queen.
Not any more, though. Delta Queen made her last passenger voyage in 2008, and is now tied up as a hotel in Chattanooga. The end of passenger service is not due to any structural or mechanical problems with the vessel, nor is it due to the difficult economy. Rather, the demise of the Delta Queen says a great deal–not much of it very encouraging–about the political and cultural environment now existing in this country.

Delta Queen has long operated under an exemption to the Safety of Life at Sea convention, known as SOLAS. (Technically, SOLAS only applies to international voyages; however, the Safety at Sea Act (P.L. 89-777) requires SOLAS compliance for vessels with overnight accomodations for 50 or more passengers.) Although Delta Queen is a steel-hulled vessel, its wooden superstructure meant that it was out of compliance with the convention.
The exemption from SOLAS was not unreasonable. Delta Queen did not operate "at sea," it operated on rivers–never more than a mile or so from shore. It is outfitted with sprinklers and with fire sensors, and with fire-retardant paint, and maintained a 24-hour fire watch and emergency response team.
The exemption has been extended multiple times since 1971. What's different now? According to a 2007 article:
But (the parent company of the ship's owner) says the real issue is opposition from the Seafarers International Union, which represented most of the steamboat's employees until last year. At that time, Majestic bought the Delta Queen and two other riverboats for $40 million and forced the union off the boats.
Joseph McCarthy, general counsel for Ambassadors International, said the company had offered to let the union back on the Delta Queen in return for the union's support for the exemption, but the union would not budge unless it was welcomed back onto all seven of Majestic's boats.
The chairman of the House Transportation and Infrastructure Committee indignantly denies that his opposition to the exemption has anything to do with this labor dispute, and says his views are entirely motivated by safety consideration. Indeed, this Congressman has (rather hysterically, in my view) implied that the operation of the Delta Queen risks a disaster comparable to the General Slocum tragedy of 1904. Five minutes of analysis should be sufficient to show the lameness of this comparison.
A serious analysis of safety would have to consider the fact that people who have been forbidden from cruising on the Delta Queen are probably not spending their vacation time at home in bed. Rather, they are pursuing alternative activities–many of which will involve travel in automobiles. Is a week-long cruise on the Delta Queen more dangerous than a week spent on a driving vacation? It seems most unlikely. No human activities are absolutely risk-free…but riverboating on a well-managed and well-equipped vessel is probably one of the safest things a person can do.
It's also important to note that–unlike an airliner or a ferryboat–trips on the Delta Queen were planned well in advance, giving passengers time to do their own evaluations of safety considerations and make their own decisions.
I am often reminded, these days, of a passage from Walter Miller's great novel A Canticle for Leibowitz:
To minimize suffering and to maximize security were natural and proper ends of society and Caesar. But then they became the only ends, somehow, and the only basis of law—a perversion. Inevitably, then, in seeking only them, we found only their opposites: maximum suffering and minimum security.
Americans crossed the ocean in sailing vessels and primitive steamships, without GPS or depth-sounders and even–throughout most of the great era of immigration–without radios. When their decendents are forbidden from traveling on the Delta Queen, the worship of safety has reached to point of idolatry, and the spirit of human freedom is being contemptuously disregarded.
I'm pretty sure, though, that the safety issues would have been overcome and the exemption issued IF there had been a sufficiently large, vocal, and well-funded group of voters lobbying on the ship's behalf.
With ever-more-pervasive government domination of all spheres of life, and the crushing of the spirit of independence among many Americans, I fear that we've entered an era in which nothing will be permitted to exist unless it serves the needs/desires of powerful interest groups.
More information about the Delta Queen here…and here is information about the campaign to save her as a working vessel.
(name of Leibowitz author corrected)