Cross-posted at Zenpundit.com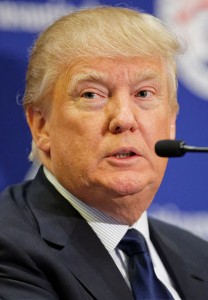 GOP Front Runner, Donald J. Trump (Image: Michael Vadon)
A friend sent an essay by the prolific IR scholar, Professor Angelo Codevilla that had been posted at Powerline Blog.  It was good.
For the unfamiliar, Codevilla often writes on national security and intelligence matters and some readers may be familiar with his (with Paul Seabury) book,  War: Ends and Means
; but in recent years Codevilla has, like Walter Russell Mead and a number
of
other
intellectuals
, turned his attention to the shoddy performance, ethical deficiencies and arrogant demands of the new American "ruling class", writing a biting critique
 of their "meritocratic regime".
In his essay for Powerline, Codevilla turns his attention to the political phenomenon of the improbable GOP presidential front runner, billionaire and reality TV star, Donald Trump.  Unsurprisingly, Dr. Codevilla is not a huge fan of the bombastic Mr. Trump, but his analysis of why Trump has captured the moment so easily has some astute insights about the decaying state of our political system and the seething anger of the electorate: