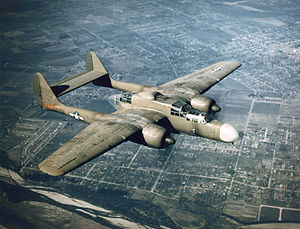 I was going to post this later, under a "Cool Project" heading, but a comment by Michael Kennedy (in this thread) encouraged me to go ahead and put it up now. It's indeed a good idea to occasionally take a little time to talk about something other than contemporary political issues.
The Northrop P-61 Black Widow was a premier U.S. night fighter of WWII. 742 of these airplanes were built; only 4 are left in existence. The Mid-Atlantic Air Museum owns one of these, and has a project underway to return it to flyable condition.
Airborne radar was a new technology in the early 1940s, and the P-61 was specifically designed to be a radar-carrying airplane. Early radars were heavy–over 400 pounds for the set that this plane carried–and a radar operator was required as well as a pilot. So the P-61 was a large airplane–23,000 pounds empty weight, a very big number for a WWII fighter. Maximum speed was 366mps, which is 318 knots. There were 4 fixed 20mm cannon plus 4 50 caliber machine guns in a remote-controlled turret.
The Black Widow was all about its radar system, which was known as the SCR-720. The radar operator had two screens, one displaying range and azimuth and the other showing azimuth and elevation. The operator used a range gate to select a particular target that would be displayed on the pilot's single screen. Close coordination between pilot and radar operator was essential in order to make an attack a success.
The plane served in both the European and Pacific theaters.
MAAM has been working on the restoration of their P-61 since 1980. You can view the progress of the restoration at The Widow's Web…it is clearly an immense project. Contributions are of course welcome; and I bet that volunteers with appropriate skills would be very welcome as well.