It is amazing the things you find out while writing a book review. In this case, a review of Phillips Payson O'Brien's How the War Was Won: Air-Sea Power and Allied Victory in World War II. The book is thoroughly revisionist in that it posits that there were no real decisive land battles in WW2. The human and material attrition in those "decisive battles" was so small relative to major combatants' production rates that losses from them were easily replaced until Anglo-American air-sea superiority — starting in the latter half of 1944 — strangled Germany and Japan. Coming from the conservative side of the historical ledger, I had a lot of objections to O'Brien's book starting with some really horrid mistakes on WW2 airpower in the Pacific.
You can see a pretty good review of the book at this link — How the War Was Won: Air-Sea Power and Allied Victory in World War II, by Phillips Payson O'Brien
However, my independent research on General MacArthur's Section 22 radar hunters in the Philippines proved one of the corollaries of O'Brien's thesis — Namely that the Imperial Japanese were a fell WW2 high tech foe, punching in a weight class above the Soviet Union — was fully validated with a digitized microfilm from the Air Force Historical Research Agency (AFHRA) at Maxwell AFB, Alabama detailing the size, scope and effectiveness of the radar network Imperial Japan deployed in the Philippines.
The microfilm reel A7237 photoshop below is a combination of three scanned microfilm images of an early December 1944 radar coverage map of the Philippines. It shows 32 separate Imperial Japanese Military radar sites that usually had a pair of Japanese radars each (at lease 64 radars total), based upon the Japanese deployment patterns found and documented in Section 22 "Current statements" from January thru March 1945 elsewhere in the same reel.
This Section 22 created map — taken from dozens of 5th Air Force and US Navy aerial electronic reconnaissance missions — showed Japanese radar coverage at various altitudes and was used by Admiral Halsey's carrier fleet (See route E – F on the North Eastern Luzon area of the map) to strike both Clark Field and Manila Harbor, as well as by all American & Australian military services to avoid Japanese radar coverage to strike the final Japanese military reinforcement convoys, "Operation TA", of the Leyte campaign.

A Japanese Technological-Logistical Tour-d-Force.
As Assistant director of Section 22, General Headquarters (GHQ) South West Pacific Area (SWPA) Col. Paul Albert stated in this passage from Current Statement No. 0259 – 13 January 1945:
RADAR LOCATIONS
At the time that the map was compiled, the disposition of completed and scheduled Japanese radars was apparently around the EASTERN perimeter of the PHILIPPINES and along the WEST coast of LUZON. This is supported by intercept evidence which suggests that the Present extensive radar network within the PHILIPPINES was not established until some time after the initial landings.
The Section 22 radar coverage map is dated early December 1944. Leyte was invaded on 17 October 1944.
The microfilm reel mentions that MacArthur's forces captured and translated a Japanese document showing the plan to deploy those radars that happened in the course of the Leyte ground fighting. The Imperial Japanese military not only moved 30-odd radars in the middle of one of the largest Allied invasions of World War 2, but they had pre-surveyed sites in mind for them to deploy to. That was a technological-logistical tour de force.
By way of comparison, it took from 30 March 1945 to mid-July 1945 for the US Marines at Okinawa to deploy 30(+) land based radars on and around Okinawa. After a similar time period of 45 days the USMC had only 17 radars in place. And during Operation Husky — the summer 1943 Anglo-American invasion of Sicily — The Allies deployed 40 mobile land-based radars in 39 days between 9 July – 17 August 1943.
Japanese military doctrine of the time was to have at least two radars at a radar site of different frequencies and low altitude coverage performance. This was so one radar could track a target while the other searched. This also resulted in fewer gaps in radar coverage.
What this doctrine meant, in terms of rapid redeployment, was that the Imperial Japanese military could skin one radar per site on Borneo, the Chinese coast, Formosa, Ryukus and Japanese Home Islands to flex that many radars into the Philippines that quickly. See the three February 1945 Section 22 suspected radar site maps below to get an idea of how large a reserves of radars the Japanese military had to draw upon to fill the gaps in Philippines radar coverage.
Plus also note below the radar deployment changes by the Imperial Japanese military in the Philippines between Dec. 1944 and early Feb. 1945.
The most interesting fact of these Philippines radar network deployments was that they were a joint IJN/IJA effort.
The captured Japanese planning documents showed a consistent siting of an Imperial Japanese Army radar along side an Imperial Japanese Navy radar and many aerial photos taken at the time confirmed radar types unique to the Japanese Army and Navy sited adjacent to one another.
Section 22 didn't know at the time the significance of that fact. They were tracking radar types without real organizational-analytical regard to which Japanese military service that was using them. The objective was to get useful radar coverage data to Allied airmen in order to save lives & aircraft and when possible kill Japanese radars. See Section 22 strike photo below.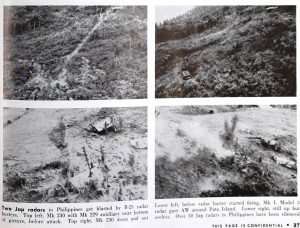 However, post-war, the level of Japanese military cooperation in the Philippines as compared to the home islands would have been obvious.
Yet the final radar reports of General Kenney's Far Eastern Air Force (FEAF), the relevant United States Strategic Bomber Survey reports and the U.S. Naval Technical Mission to Japan (AKA "NavTechJap") could only talk about the separate IJA and IJN early warning reporting networks in the Japanese home islands. And there isn't a word of this cooperation in the US Army, US Air Force, US Navy institutional histories, nor are they in MacArthur's Reports.
This blackout appears to be partly a matter of keeping what we now call "electronic warfare" capabilities classified, and mostly a result of suppressing a number of WW2 combat histories in the War & Navy to Defense Department merger. The controlling institutional factions of the US Navy and USAF (CINCPAC and the Bomber Generals, respectively) were particularly ruthless about altering wartime reports that threatened their post-WW2 budgetary interests.
This is not unusual, such politics are part of the human condition.
The thing that stands out in this particular case was the suppression of the size, scope and capability of Japanese military-technological culture to deploy over 30 land-based radars across an area the size of the Philippines in a month and a half.
I will be exploring this "hidden narrative" of Japanese military-technological culture in future columns.
REFERENCES
1) George K. Grande, Sheila M. Linden, & Horace R. Macaulay, CANADIANS ON RADAR, ROYAL CANADIAN AIR FORCE 1940 – 1945 Page VIII-6, Canadian Radar History Project; 1st Edition (2000)
See also downloaded copies at www.rquirk.com/cdnradar/cor/main.htm which provided the background on Anglo-American Radar deployment in Operation Husky.
2) Microfilm Reel A7237, filmed 8-12-75 by Archives Branch of the Albert F. Simpson Historical Research
Center at Maxwell AFB, Alabama, with the following Section 22 files used in this column —
o Maps of Japanese Radar, Dec 1944, Signal Corps File 710.654A

o Japanese Radio & Radar Activities, Jan 1945, Signal Corps File 710.654A

o GHQ SWPA Japanese Radar, Oct – Dec 1944, Signal Corps File 710.654B

o GHQ SWPA Japanese Radar, Nov – Dec 1944, Signal Corps File 710.654B
3) Evaluation of Photographic Intelligence in the Japanese Homeland, PART SEVEN, ELECTRONICS, PHOTOGRAPHIC INTELLIGENCE SECTION, Date of Survey 7 Oct 1945 through 16 March 1945, Final Report June 1946, United States Strategic Bombing Survey (USSBS) Report #104
4) REPORTS OF THE U.S. NAVAL TECHNICAL MISSION TO JAPAN, 1945 – 1946, Operational Archives, U.S. Naval History Division, Washington, D. C.
http://www.fischer-tropsch.org/primary_documents/gvt_reports/USNAVY/USNTMJ%20Reports/USNTMJ_toc.htm
JM-200-B Series E: ELECTRONICS TARGETS
E-03 Japanese Land Based Radar
E-04 Japanese Centimeter Wave Techniques
E-07 Japanese Radar Counter-measures and Visual Signal Display Equipment

JM-200-F SERIES O: ORDNANCE TARGETS
0-56(N) Japanese Field and Amphibious Equipment Kyushu Defense Systems
5) A Short Survey of Japanese Radars Volumes I, II, & III, 20 Nov 1945, Prepared by 2d & 3d Operations Analysis Section, FEAF and Air Technical Intelligence Group, FEAF (ATIG Report No. 115)
6) Spreadsheet of USMC Radar Deployment at Okinawa, Author created compilation of radar deployment dates from War Diaries and War Histories Marine Air Group 43, and Marine Air Warning Squadrons One, Six, Seven, and Eleven, March – June 1945, downloaded Fold3 digitization service during 2014-2016 inclusive.