I have often stated in an earlier Chicago Boyz columns on Gen Douglas MacArthur that:
"One of the maddening things about researching General Douglas MacArthur's fighting style in WW2 was the way he created, used and discarded military institutions, both logistical and intelligence, in the course of his South West Pacific Area (SWPA) operations. Institutions that had little wartime publicity and have no direct organizational descendant to tell their stories in the modern American military."
Today's column is on another of those forgotten institutions, the New Guinea Air Warning Wireless (NGAWW) company, and the US military leader who saw to it that it's story was forgotten in the institutional American military histories of World War II.
DESPERATION & INNOVATION
In January 1942 — after the Fall of Rabaul and before the Japanese Carrier Strike on Darwin — the Australian military recognized it needed a system of radio equipped ground observers in New Guinea to warn Australian outposts of incoming air attacks.  Thus was born the New Guinea Air Warning Wireless Company (NGAWW), which was a inspired combination of innovation and desperation using the organizational templates (and Amalgamated Wireless Australasia (AWA)  Teleradio series wireless sets) of the Australian Royal Navy Coast watchers and the Royal Air Force Wireless Observer Units   used in North Africa.  [1] [2]
The NGAWW was born as a "secret wireless unit" in January 1942, give a status as a "commando unit" in 1944 and was officially disbanded in April 1945. [3]
In early Jan-Feb 1942  some 16 air warning ground observer stations were established. There were positions set up along the Papuan coast as well as in the mountains near Port Moresby. By Dec. 1942 the New Guinea air warning network had quadrupled in size and was maintaining 61 operational stations with a strength of 180 men.[4]
The  NGAWW at its peak in late 1944 included more than 150 spotter stations deployed on islands and mainland territories throughout Papua, New Guinea and Dutch New Guinea.  To support this expanded network the company's headquarters had moved to Nadzab in June 1944,  (See map below) by which time stations had been established as far as Hollandia. [5]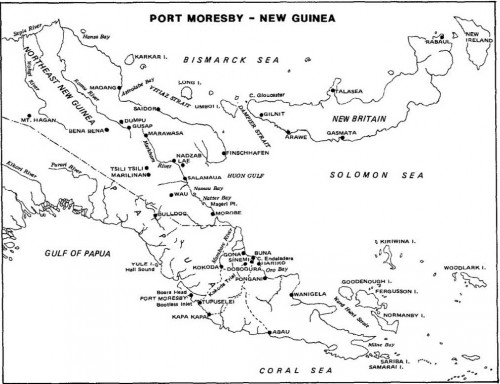 Many NGAWW company air warning ground observer stations operated behind Japanese lines watching air bases.  Thus they were at risk of being captured by the Japanese due to the nature of their operations.  These stations were minimally armed– one Owen sub-machine gun for the lead NCO and a rifle for enlisted observers — and lived off what they could pack in or obtain locally after travelling by foot for up to six weeks.  A number of the air warning outstations operating near Japanese air bases were over-run and the men manning them killed.
THE POLITICS & LOGISTICS OF THE HOLLANDIA LANDING
In 1944 Australian ground forces captured a Imperial Japanese Army code book code.  General MacArthur used this break in reading the previously unreadable mainline Japanese Army code to launch Operation Reckless, the invasion of Hollandia in then Dutch New Guinea.  [6]
This operation on New Guinea's north coast ran into several logistical and political issues between the Australian Labour government of Prime Minister John Curtin and the US military. [7]  Hollandia was in Dutch New Guinea and more than two days air travel from Southern Australia.  Effectively MacArthur's forces at Hollandia would be closer to American forward bases in Admiral Nimitz's Central Pacific theater than Australia.  In addition,  PM Curtin had made political promises to the Australian people that only Australian Imperial Forces (AIF) would serve outside Australia and Papua New Guinea.  The NGAWW company was on the wrong side of that organizational line. So in September 1944 the Australian military refused MacArthur's requests for the unit to serve outside the Australian area of operations.
DISAPPEARING GROUND OBSERVERS IN US NEW GUINEA HISTORIES
While the Australian air warning ground observers faded from MacArthur's order of battle.  The US Army's Signal Aircraft Warning Battalions maintained the mission with a company of ground observers assigned to every "lightweight radar SAW battalion" in the theater.[8]  These signal air warning ground observer company units owed their existence to then Captain Claire Chennault's 1933 Ft. Knox air Defense Observer Network that so embarrassed the "Bomber Mafia". [9]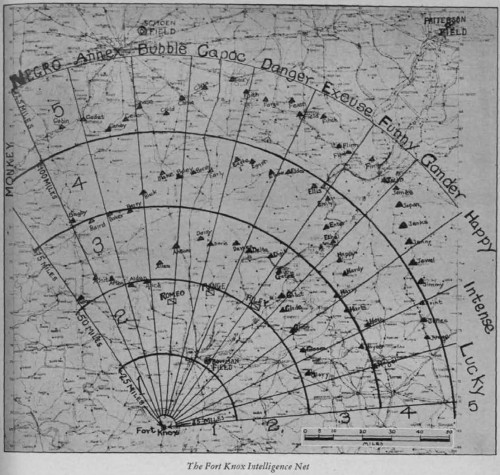 The success of both the General Chennault's and  General MacArthur's radio air warning ground observers in China, New Guinea and especially in Leyte in the Philippines was ruthlessly purged from the USAF institutional histories.  General H.H. Hap Arnold set the tone for future USAF historians.  This is how he put it in his autobiography, Global Mission:
"General Chennault, by his long years of experience with the Chinese, and his uncanny sense of anticipating what the japs would probably do, was able to adopt formations and techniques for the Tenth Air Force which could not be used in any other theater."[10]
As the Australian  New Guinea Air Warning Wireless Company (NGAWW).  American SAW companies and RAF wireless observer companies showed.  This was far from the case, but General Arnold's anti-Chennault institutional narrative must be repeated, whatever it's truth.
And now you know why another of General Douglas MacArthur's military institutions was forgotten.
-End-
Sources and Notes:
[1] See respectively:
New Guinea Air Warning Wireless
From Wikipedia, the free encyclopedia
https://en.wikipedia.org/wiki/New_Guinea_Air_Warning_Wireless
The Coastwatchers 1941–1945
https://anzacportal.dva.gov.au/history/conflicts/australia-and-second-world-war/resources/coastwatchers-19411945
A small Australian army signals unit, the New Guinea Air Warning Wireless Company (NGAWW), also existed as a single entity between February 1942 and 1945. In October 1942, the unit was officially renamed 'New Guinea Air Warning Wireless (Independent) Company' as part of New Guinea Force and later, as part of the Corps of Signals in October 1943. These Army 'spotters' served in the valleys, highlands and around the coastline of New Guinea and nearby islands as signallers. All members of the unit were volunteers and their unit colour patch was a double diamond, being the 'independent' unit (later 'commando') insignia. By 1943-1944, the NGAWW had 75 outposts in New Guinea and surrounding islands in the South-West Pacific Theatre of Operations. The unit was disbanded in 1945 and its members have been commemorated with a plaque in the grounds of the Australian War Memorial in Canberra.
ROYAL AIR FORCE OPERATIONS IN THE MIDDLE EAST AND NORTH AFRICA, 1939-1943
https://www.iwm.org.uk/collections/item/object/205208912
[2]  VK2DYM'S MILITARY RADIO AND RADAR INFORMATION SITE.
THE 3BZ COAST WATCHERS WIRELESS SET.
http://www.qsl.net/vk2dym/radio/3BZa.htm
[3], [4], [5] Ibid opening paragraph of the Wikipedia article in note [1]
[6]  See the following for Ultra code breaking and "Reckless" operational considerations:
Pages 104 – 115 of Edward J. Drea, MacArthur's ULTRA: Codebreaking and the War against Japan, 1942-1945 (Modern War Studies) University Press of Kansas; Fourth Edition edition (December 20, 1991), ISBN-10: 0700605762, ISBN-13: 978-0700605767
Battle of Hollandia
From Wikipedia, the free encyclopedia
https://en.wikipedia.org/wiki/Battle_of_Hollandia
[7] Curtin Government
From Wikipedia, the free encyclopedia
https://en.wikipedia.org/wiki/Curtin_Government
[8] See the following on SWPA SAW Battalions:
Braxton Eisel, "Signal Aircraft Warning Battalions in the South West Pacific in Workd War II, Pages 14 – 24, AIR POWER History, Fall 2004
No author "The SAW Battalions: Their Pacific Record," Radar No. 11, Pages 26 – 28, 01 October 1945,  Office of Air Communications Officer, USAAF
[9] History Friday: Claire Lee Chennault — SECRET AGENT MAN!
Trent Telenko on December 20th, 2013
https://chicagoboyz.net/archives/40740.html
[10]  Page 376, General H. H. "Hap" Arnold "Global Mission" Tannenberg Publishing (January 18, 2016) ASIN: B01AYP67E8
https://www.amazon.com/Global-Mission-General-Hap-Arnold-ebook/dp/B01AYP67E8