On Okinawa, the US 77th Division suffers heavy casualties while fighting for the Ishimmi ridge and withdraws.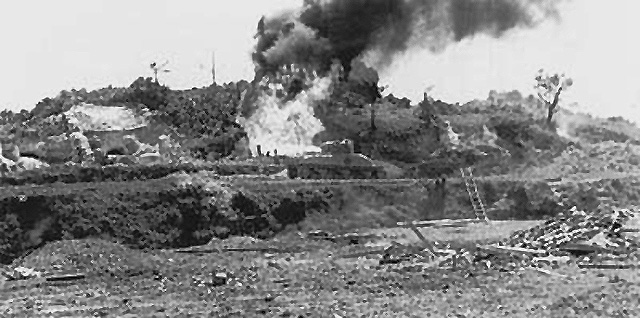 Okinawa Campaign Background — Col. Unmacht's Mechanized Flamethrowers
One little known US Army Chemical Warfare Service Colonel stationed in Hawaii made the flame throwing tanks of the Pacific War possible. His ad-hoc team of CWS, Ordnance Department, US Navy See Bees, and private contractors designed and produced both main gun and auxiliary weapon mounted flame throwers for 384 US Army and USMC M3 Stuart light tanks, LVT4 amtracs and M4 Shermans in less than a year.
That compares to a total of five M5A1 "Q" flame thrower tanks and a few dozen M4-5 auxiliary armament flamethrowers the warring Chemical Warfare Service, Ordnance Department and Armored Force bureaucracies managed to get to the Pacific before VJ-Day.