NB: some of the following is from a recent videoconference that included our own Trent Telenko, who is very much the man of the hour, but some of it is more publicly available, not to mention common sense. First, though, as is my wont, a quadrant diagram to organize my presentation …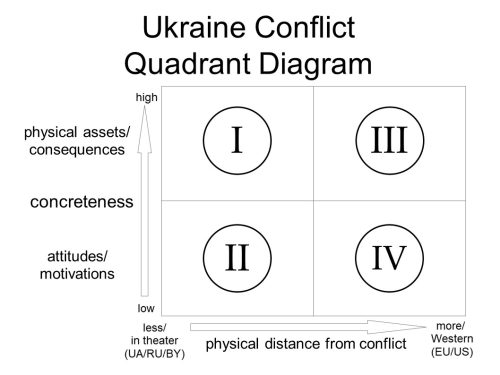 I. Theater "Hardware" (physical assets/consequences)
II. Theater Software (attitudes/motivation)
III. NATO, ie American Hardware (physical assets/consequences)
IV. American Software (attitude/motivation)
V. The Future Dimension
VI. The Personal Dimension
Sometime in second or third grade I learned the Cyrillic alphabet from a children's book I checked out of a library. Each letter was introduced with the name of a place in what was then the Soviet Union, so some of the names had been Russianized. А was Alma-Ata, В was the Volga, Д was the Don, I'm pretty sure Л was Leningrad, Ч was Chita, Я was Yalta … I don't remember most of the placenames—although I can still read the alphabet and was therefore good for street signs and simple written instructions when I visited Russia in 2016. But I remember К was Kiev and Х was Kharkov.
So in the fullness of time, I rode the length of the Trans–Siberian Railway, more than nine thousand kilometers from Moscow Yaroslavskaya to Vladivostok. The trip was fantastic, especially the eastern portion; I would spend a month at Lake Baikal every summer if I could. The way things are looking now, travel to Russia may become as difficult as it was during the Soviet period, and stay that way for the remainder of my lifetime.
On the train, I was ostensibly helping chaperon a batch of millennials from Missouri State in Springfield on a "Study Away" trip. Most of them were multimedia journalism students, making the occasional attempt to interview our fellow passengers for a short documentary. Somewhere east of the Urals—which turned out to be about the height of the Ozarks, not at all like their depiction in Dr Zhivago—but west of Irkutsk, which doesn't narrow it down much, a platoon of army recruits were riding in the 3rd class cars forward of our much nicer 2nd class accommodations. Some of the students talked with them (we had three fluent Russian speakers in the group, so we were not dependent on hired interpreters) and quickly learned that much of the recruits' training was skipped over because they were forced to do construction work on an officer's dacha. I remember hearing that and thinking, if this country gets into a real war, these kids are going to be like straw in a bonfire. Eighteen- and nineteen-year-olds.
Six years later and firmly ensconced in the American heartland, I am being repeatedly reminded of a cultural division within American evangelicals, which is the one between those with any involvement with, actual, y'know, evangelism, and those who are more … "self-identified." At the church where I help out, there are a dozen or so staff and attendees who either grew up behind the Iron Curtain or spent years to decades on mission in eastern Europe in the late 20th and early 21st centuries. They have a far more internationalist outlook than the stereotypical Trump-supporting and often unchurched people who nominally share their beliefs while ranting about the WEF/NWO and, in the worst cases, how everything that's happening is some kind of Jewish plot. Similarly, not mentioned in news accounts of the Ukrainian FCA refugees in KC is that, according to a longtime friend of mine here, their own Russian colleagues warned them that invasion was imminent and they should try to flee. People without such connections, whether due to geography or merely personal alienation, are relatively prone to dark imaginings about Putin-as-hero. These, I submit, are the real "two cultures," and they bear a more than passing resemblance to Arnade's front row/back row division of American society.
---
BELATED UPDATES (Thu 14 Apr):
Regarding a blurring of the line between predation and insanity … "In a sane world, it would make [the Russians] think twice, but the Russians don't seem to be acting sane on any measure in this engagement."
Local media eventually picked up on the warning the Ukrainian FCA got from Russia before the invasion.